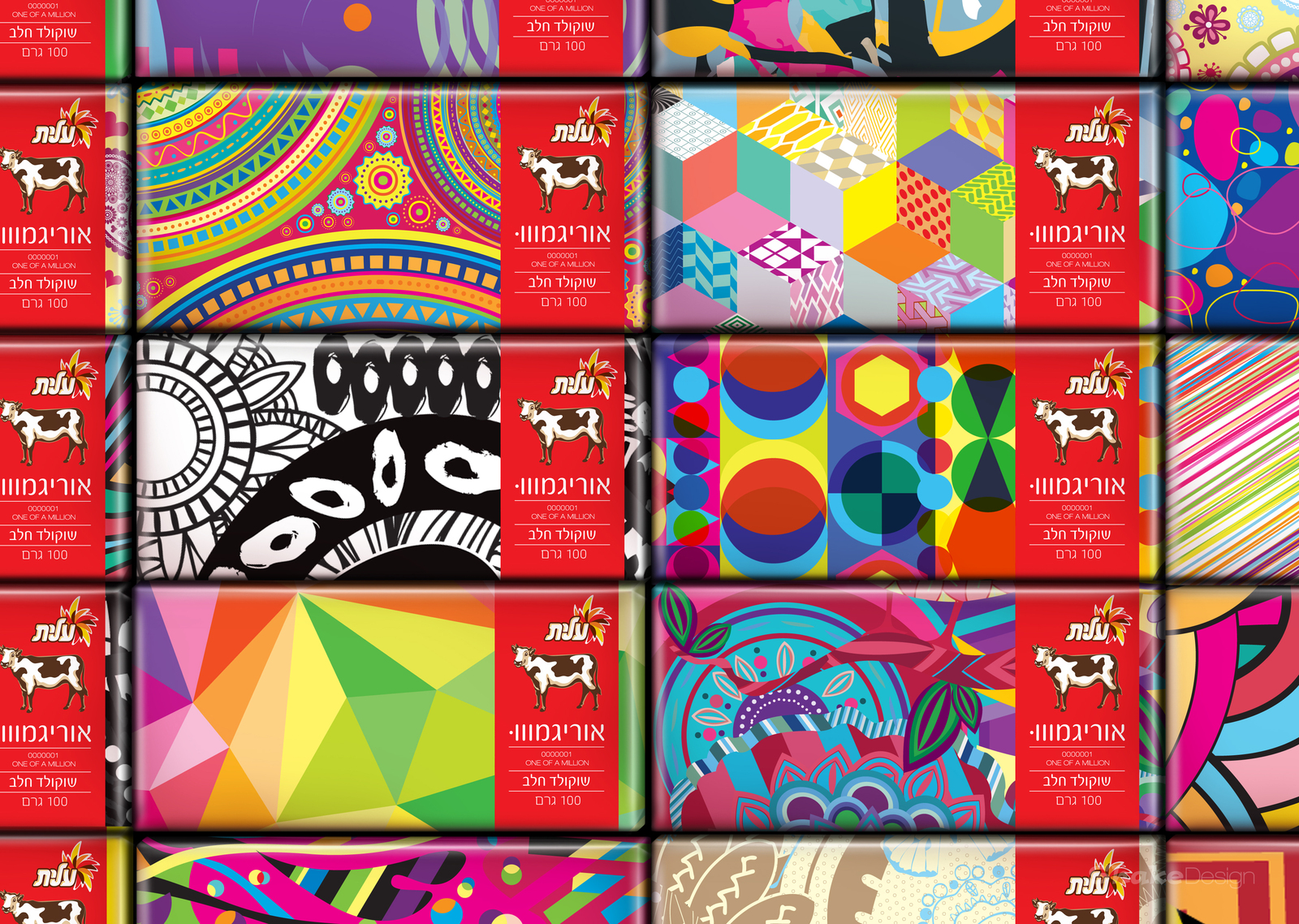 Welcome to this HP Site Flow whitepaper on digital packaging printing. This is part of a series of whitepapers commissioned by HP in 2020 and provide a thorough independent analysis of current workflow trends and the benefits that it can bring across verticals. From saving hard cost with smart batching and optimisation to scaling to thousands of orders without falling apart, this series is designed to help any print service provider get the full picture. The whitepapers can be read in full on this site or downloaded instantly as a PDF with no pesky forms to fill out. From all of us in the HP Site Flow team, we hope you find the series useful.
Keypoint Intelligence Whitepaper: Capture Digital Packaging through Mass Customisation
Introduction
Retail brands and other packaging customers are looking to leverage their products' packaging to increase product sales, brand awareness, and consumer engagement while using digital printing technology to offer product variations in small batches. To succeed, packaging converters and label producers must have a scalable end-to-end workflow that can accommodate the customisation and versioning of product packaging, while ensuring rapid turnaround and delivery tracking for brands. All of this applies whether your packaging production is for corrugated packaging, flexible packaging, folding cartons, or labels. The industry opportunities are similar, and the growth rate is steep.
Although the underlying benefits vary somewhat by type of packaging, there are some key advantages that an automated end-to-end workflow offers to all types of packaging:
Prototypes, test runs, and on-demand production: During the packaging design phase, prototypes and test runs are needed to ensure that the package meets the needs of the brand owner. Once the design phase is completed, it is common to produce digitally printed labels and packaging on-demand based on market demand. This may include localised, customised, or personalised packaging.

Localisation, customisation, and personalisation: Brand owners value the ability to produce unique messaging and packaging designs via digital printing methods. This enables them to localise labels and packaging for regional markets, customise labels and packaging for events or holidays, create visually stunning effects, or even personalise a product to an individual. This concept of "mass customisation" is taking hold as a basic strategy for many brand owners.

Operational efficiency: Operational efficiency is equally important for brand owners and packaging converters. For brand owners, the increasing number of stock-keeping units (SKUs) drives the need for supply chain efficiency and responsiveness to unexpected changes. For packaging converters, efficiency in printing short runs on production digital printers also makes their analogue presses more efficient by taking short runs away from them and enabling these devices to focus on printing the longer runs where analogue methods excel.
Yet coping with shorter runs, increasing numbers of jobs, quick turnaround requirements, and variable data cannot be accomplished with traditional workflow processes and tools.
Chasing the Consumer
Brands are constantly evolving their products to chase the changing buying preferences of the consumer. In their pursuit, brands have increased the number of SKUs to target different demographics and have shortened the cycles for product updates.
Cycle times for new products and product refreshes are measured in months. Packaging is one part of that process, but product development, testing, and manufacturing are key. Packages and labels are unlike most commercial printing applications in that they are not the final product in the way that a book, a brochure, or a direct mail postcard is.
Packages and labels are one piece of a multi-part process. They serve multiple roles: product protection, consumer safety, convenience, and marketing (to name a few). All these aspects contribute to make package and label production a relatively complex equation. Keypoint Intelligence's research puts the cycle time for new products and product refreshes at around six and a half months globally (less in the United States). Yet retailers and others are increasingly under pressure to reduce those times, and this is where automated production combined with production digital print technologies can play a big role.
New Product and Product Refresh Cycle Times of Brands (Months)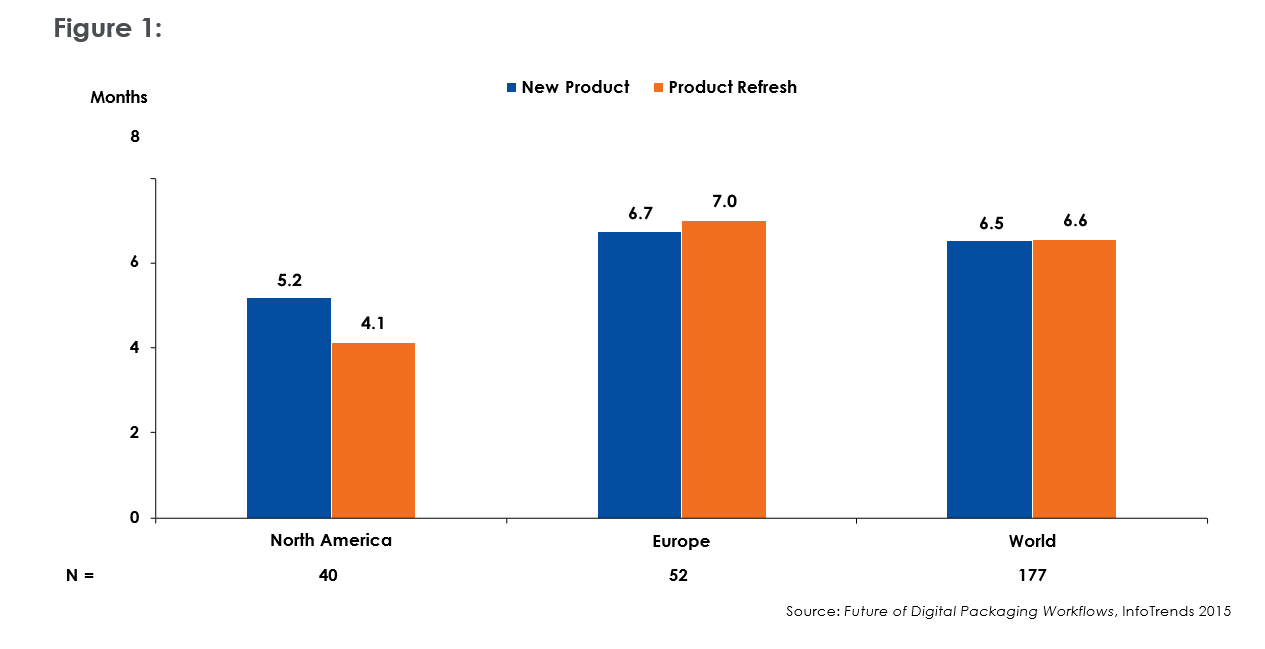 Packaging turnaround times are also under pressure from the increasing number of SKUs and the impact that has on cycle times and the ability to get products on the shelves.
Packaging Turnaround Times
A Keypoint Intelligence study of packaging converters measures packaging turnaround time in days, with the average between seven and eight days. Packaging converters are under pressure from their customers to find ways to reduce these times. Automated, end- to-end workflows present the best solution to this challenge.
The Packaging Converter's Opportunity
New capabilities in digital packaging printing have changed the cost equation and unlocked the ability to print small runs profitably. Converters can now produce more versions of labels and packaging for brands in smaller quantities. Reductions in turnaround time afforded by digital package & label printing allows brands to shorten their production cycles and gain faster time to market for their products—a key selling point for converters. This all presents new opportunities for packaging converters.
19% Percent of packaging converters who identify versioning as a key area where brands will pay extra
Where Brands Spend Extra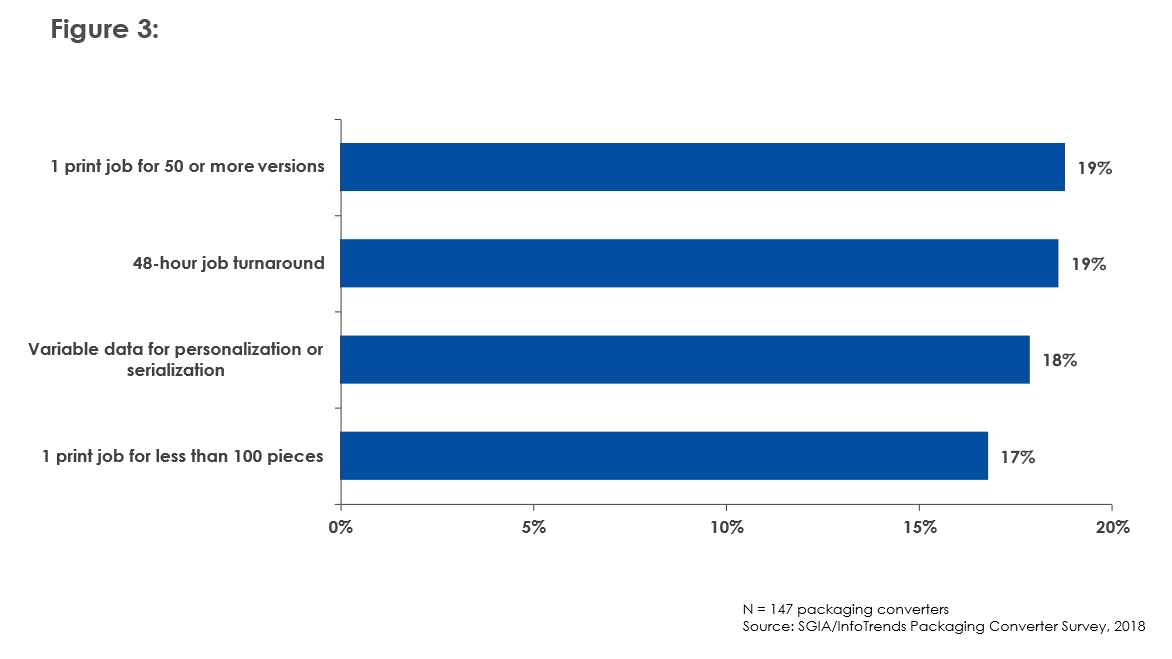 A SGIA/Keypoint Intelligence study of packaging converters revealed that four key factors are important to the brand owners that they serve. The study showed that brands are willing to spend more money when services such as versioning, quick turnaround, personalised or serialised variable data, and short runs are available.
Biggest Concerns for Packaging Converters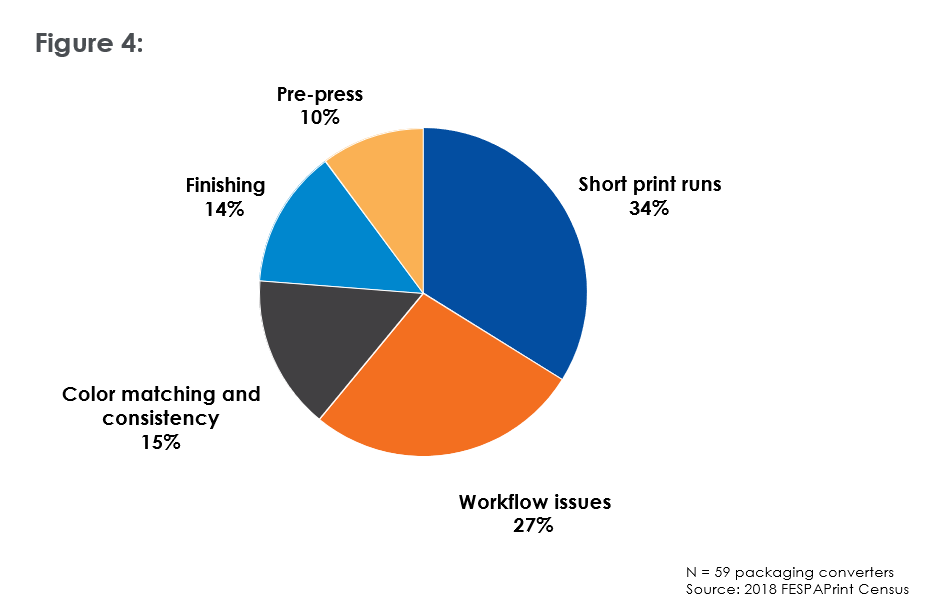 Not surprisingly, another study by FESPA identified that short runs and workflow issues topped the list of the biggest concerns for packaging converters. If services like versioning, quick turnaround, variable data, and short runs are what brands are looking for and, at the same time, short runs and workflow issues are the top concerns for packaging converters, then workflow improvements are the bridge to succeed.
Meet Demand with a Modern Workflow
More SKUs, personalisation, customisation, and shorter print runs require packaging converters to redesign their workflow processes and software solutions. Converters need a flexible workflow solution that can process thousands of unique orders per day while automating the production schedule so brands receive their orders on time, especially when brand owners may have tens of thousands of SKUs. Managing these variations requires an extremely solid workflow to automate multiple steps, saving time and allowing production floor staff to focus on customer satisfaction.
How would your business be improved if you saved €31 per job by automating three tasks key to package printing?
Keypoint Intelligence research indicates that, for label and package printers, the steps associated with repetitive workflow tasks such as file retrieval, preflighting, and imposition require nearly an hour per job. HP reports that its customers can fully automate these tasks using their end-to-end workflow platform HP Site Flow.
53 Potential time savings in minutes per job from an end-to-end workflow solution
Average Operator Time for Repetitive Workflow Tasks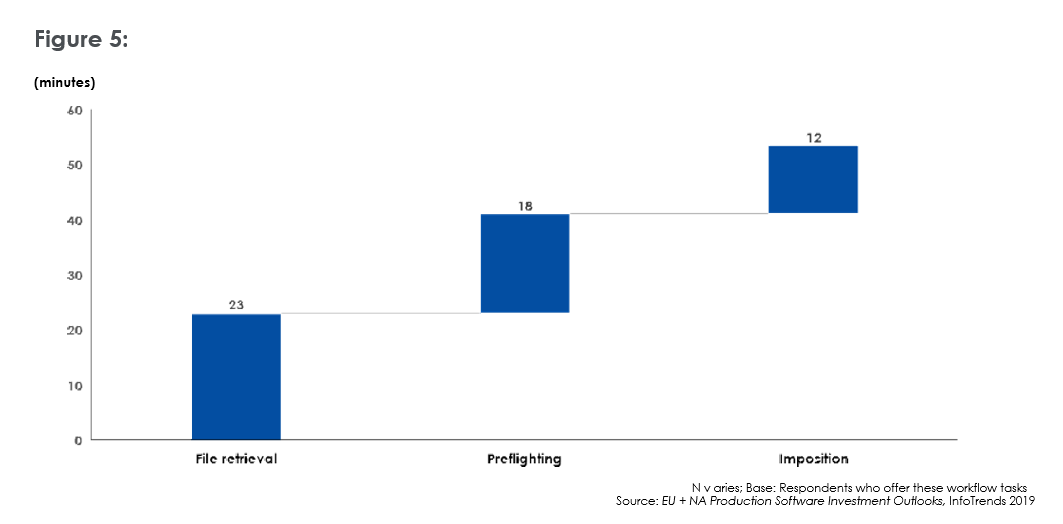 What impact does the reduced time associated with these steps have? It means that a process that could take 53 minutes to complete can now be fully automated, saving precious labour hours. For an operator earning €45 per hour, the labour cost savings are significant. At the average level for packaging printers in Keypoint Intelligence's research (29,544 jobs annually), that is a cost improvement of more than €900.000 annually (or roughly €31 per job), which translates to higher productivity and profitability rates while also facilitating the ability to handle more jobs effectively.
HP Site Flow – Built for Mass Customised Labels and Packages
HP Site Flow was created on a foundation of processing thousands of small quantity orders per day. The solution automates routine processes of preparing files for printing along with more complex tasks like dynamic scheduling for meeting service level agreements (SLAs). These features allow packaging converters to excel at the massive analogue-to-digital printing conversion being driven by the needs of the market and its supply chain.
HP Site Flow has the potential to save 53 minutes associated with common repetitive workflow tasks in label and package printing. It frees up operator time at an astounding rate and with potential labour cost savings of €31 per job. This level of automation enables many more jobs to be handled per shift while simultaneously improving turnaround time and meeting label and packaging customer needs for versioning and short runs.
In conclusion, an end-to-end production workflow is essential for the digital packaging and label printing market:
To meet the need for short runs and prototyping: Brands worldwide are increasingly ordering print more often and in smaller amounts, making short-run printing a requirement. The role of prototyping in the label and package design process also requires an automated workflow for maximum efficiency.

To build on packaging market trends: Brand owners are changing their strategies to take advantage of technology developments in workflow software and digital printing. Packaging converters are adopting the technology and are developing the programs as well as skill sets necessary to offer versioning, quick turnaround, variable data, and short run services.

To take advantage of advances in digital printing and software technology: Digital printing systems—which have historically been used primarily for document applications—have expanded in terms of capabilities and substrate support to become more effective for packaging applications. The trend began with labels and is now expanding rapidly for folding carton, corrugated packaging, and flexible packaging. Simultaneously, software to support these applications is also moving forward at a rapid pace.
The time is ripe for bringing automated workflows into label and package production for digital packaging printing, and HP Site Flow provides the platform needed to make this transition.