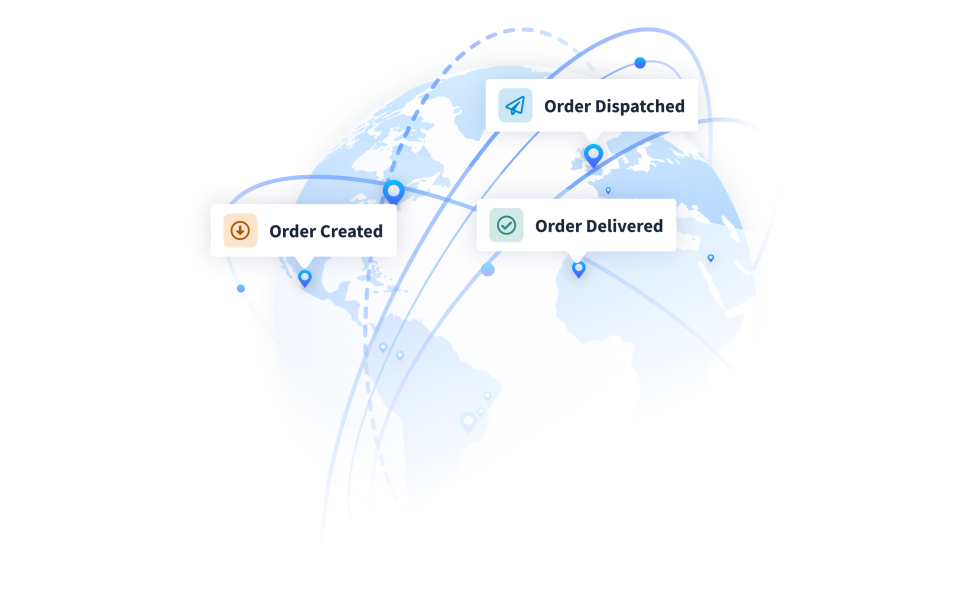 From the moment a customer places a print-on-demand order on your eCommerce site to the day it's delivered to their door, visualizing and tracking that order on an automated order management platform is critical. This is especially true when your print-on-demand services are outsourced to other print service providers (PSPs).
These days, print shops have many options for partnering with PSPs, and ultimately, who you choose depends on your business goals and what you want to achieve by offering print-on-demand. So, ask yourself: Do you want to customize a generic product line, or do you have your own product SKUs to be printed? Do you need global coverage or are you focused on just one region or country? How important is supply chain sustainability and minimizing environmental impact? Perhaps you have a specialty product SKU in mind, such as apparel? Or maybe you need a company to take care of managing the various tax regulations in global markets?
About the Guide
With different business objectives impacting your decision and many PSPs to choose from, how do you make the right choice? To help, we've put together a brief overview of six leading providers – several of whom are partners on the HP Global Print Network – and provided some recommendations based around their key strengths. Here's the summary, at a glance.
Best for Automating Global Tax Compliance: Peecho
Peecho differentiates itself with its "seller of record service", which eliminates the administrative complexity of tax compliance tasks for global eCommerce order fulfillment. The company provides this service automatically through a plug-and-print checkout tool within its eCommerce order management workflow. Plug-and-print includes all commonly used payment methods in 60 currencies and nine languages. Other key features of Peecho include:
Automated print order fulfillment via their API
Brand support with white label customer service
Sales and order dashboards
Custom printer and product sourcing and management
Best for a Vast Catalog of Standardized Products: Gelato
Gelato is an excellent source for a wide variety of standardized print-on-demand products. Gelato's product catalog is easy to integrate into eCommerce sites using its API and other marketplace applications in its global print network. The company's core products are mugs, hoodies, tee-shirts, posters, canvas, frames, and photobooks. Gelato may not be the right choice, however, if you want to provide more custom-designed or personalized individual products. Other key features of Gelato include:
Direct API integration
Automated order management and tracking
Close to 90% of orders are produced locally with the closest partner to the shipping location
Shipping options to reduce carbon emissions, delivery times, and costs
Best for Expanding Print-on-Demand Services Globally: HP Brand Centre
HP Brand Centre is an easy-to-use cloud-based application that enables brands, online retailers and print service providers to connect to a global print network offering a large catalog of print-on-demand products and services.
More than 1,000 brands and printers currently use HP's Brand Centre platform to produce 500 million printed items per year. A simple API integration connects a print brand with over 700 print service providers (PSPs) on the platform, which provides a real-time view of the entire print-on-demand production network. As a result, supply chain managers and customer service departments can ensure that print-on-demand orders outsourced to Brand Centre PSPs will be delivered on-time and as promised to multiple global locations.
Other key features of HP Brand Centre include:
Scalable architecture to expand print on demand services globally to markets in more than 40 countries
Expand product lines with a wide range of white label printed products that can be ordered, produced and shipped directly to the customer.
A single portal with real-time order visibility, tracking and status with API integration that includes order management, communications hub, order routing and network dashboard.
Product and partner agnostic, so brands remain independent in choosing PSPs.
A corporate partner with a constant focus on improving sustainability and corporate social responsibility (CSR) initiatives.
Best for Specialty Apparel Products: Printful
Printful specializes in print-on-demand and embroidered apparel, hats, swimwear, and other related categories of apparel orders, which they manufacture and fulfill primarily at production sites in the U.K. and other global locations. The company also offers wall art and home goods, flags, drinkware, and a small variety of other standard products. Other key features include:
Automated order management
Warehousing and fulfillment services
Line of eco-friendly products made from recycled or organic materials
White label branding
No order minimums; large volume printing
Best for Stock Management, Order Fulfillment and Shipping: Mintsoft
Mintsoft does not offer print-on-demand services per se but excels as a partner for print on demand stock management, order processing, fulfillment and shipping services. Warehouse management capabilities include an interactive warehouse map, low stock and replenishment reports, purchase order creation, and more. Mintsoft also offers 3PL management for automated calculation of invoices and seamless integration with a number of leading financial ERP and production planning systems. Other key features of Mintsoft include:
Carbon footprint calculator for a sustainable supply chain 60+ out-of-the-box marketing integrations for multichannel management
End-to-end smart shipping rules
Automated shipping label printing and order tracking
Best for Reduced Carbon Footprint for U.S. Markets: Cloud Printer
Cloud Printer is another PSP whose order routing and shipping methods are geared to reducing CO2 emissions. The company also works with hardware, materials and techniques that are energy efficient and have a low impact on the environment. Other key features of Cloud Printer include:
5,000+ product templates
Transparent instant pricing API for global print sourcing and routing
Carbon footprint calculator for a sustainable supply chain
Take the Next Step
We hope this guide helps you identify which PSP might be right for your business and objectives. If you have additional questions about HP Brand Centre or HP's Global Print Network, visit here for details.